Here's one for you:
A Colonial "theme" park has a couple of people that operate the mules that pull a barge along a closed-off two mile stretch of canal. The canal doesn't get anywhere even
close
to anything even vaguely sensitive like a nuke power plant, military base, or anything like that.
So what does the TSA demand?
Biometric ID for the muleskinners
, under the claim that everybody with any kind of Coast Guard license (the 'skinners have to have one because of the boat) has to have the background check necessary to get the I.D.
Now, you tell me -- does THIS look all that dangerous?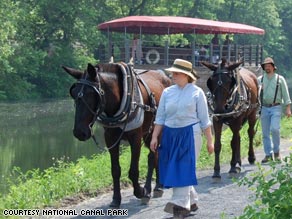 Best line of the article? Has to be this:
... the mules could be considered weapons of mass destruction only if they were aimed at something resembling food.
Ya gotta love it...